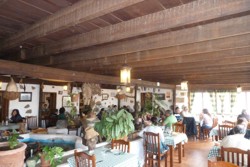 In the village of Villaverde, characterized by having some of the best restaurants in Fuerteventura, the restaurant El Horno is a local Canarian cuisine and specializes in grilled meats and wood-fired grill.
The service is perfect, very fast and pleasant, and the interior is decorated like an old Canarian house with curious ornaments.
They have a good selection of starters (majorero cheese, peppers, sausage tables, etc..
They also have a good selection of fish, but the strength of this restaurant with its excellent meat dishes grilled (on our visit we took a Grilled Sirloin Steak, simply delicious, with a delicious side dish of vegetables and potatoes (fried or roasted)).
The wine list is complete and of good quality.
In short, one of the best restaurants in Fuerteventura, if you are looking for a place specializing in grilled meat.
Restaurant El Horno
Ctra. General, 191
Villaverde - Fuerteventura.
Phone: 928 86-86-71 / 630 84 34 64
Monday Closed